Peer to Peer Lending Regulation: the benefit for SMEs
[avatar]
A recent article written by Dr Avinash Persaud of Intelligence Capital caught my eye this morning in which he discussed the major issue of financial regulation and the difficulties facing SMEs in trying to raise finance through the traditional lending avenues. Persaud is a well-qualified source of knowledge: a former governor of the London School of Economics, a former member of the UN Commission on Financial Reform and a visiting scholar in both the European Central Bank and the International Monetary Fund, as well as the Chairman and former employee of a range of private, public and investment banks. The article is written for an Indian digital newspaper, but it certainly is written from a global outlook. It can be found here:  http://www.livemint.com/Opinion/fQpaevJ8DX7KUpwBVdeXQK/Crowd-financing-is-not-banking.html
I have identified two important points from his article. Firstly, he is at pains to highlight the importance of facilitating finance to SMEs to drive economic growth, and he recognizes that banks cannot be expected to provide all of the finance. He recognizes that "a large part of the problem of financing development is not the absence of cash but an inability to mobilize it". In my view, this is the result of the lending vacuum left in the wake of the Basel III rulings that ensure banks must have proportionately more capital in the bank when lending to small businesses than they would lending to more established businesses, tying up more of funds than banks would like. Dr Persaud recognizes the need to "use technology to match untraditional borrowers with untraditional lenders and provide opportunities for diversification and other forms of risk and information management." Persaud fails to recognize that the bulk of the lending can come from institutions who will pledge alongside individuals on the same terms. Dynamic, flexible and secure Peer to Peer (P2P) crowdlending platforms that are properly regulated will fill the SME lending vacuum, facilitating finance from SMEs from a range of institutions and investors whose money would otherwise be unavailable to borrowers.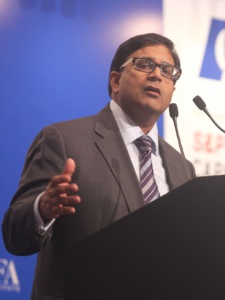 This leads me to the second main point: regulation. I think Dr Persaud is right to highlight the importance of differentiating lending platforms from traditional banks, a job that the regulators must do to ensure that prospective lenders know exactly what the risks are. The P2P industry itself wants FCA regulation for clarity as much as credibility. Regulation needs to be a long, drawn-out process to avoid simply bracketing it with banking regulation. Persaud reasons that "regulating crowd financing platforms as a bank and not an exchange would not only undermine the point of it, but would create systemic risks". However, Persaud's belief that P2P alternative finance platforms should drop "conventional" nomenclature is not necessarily the answer. I disagree with his statement that the banking terminology "Market Place lending" shouldn't be used by alternative finance P2P lenders because that is exactly what is on offer to SMEs wishing to borrow money and individuals willing to lend.
In the words of Dr Persaud, "moving to the next level of social and economic development depends on these borrowers getting through", which in turn depends on regulated Peer to Peer crowdlending platforms facilitating the finance from a range of savvy individual and institutional investors.