Productivity, Interest Rates and SMEs
[avatar]
Last week, the Office for National Statistics (ONS) announced that productivity in the UK grew at the fastest rate in four years, finally exceeding the pre-economic crisis levels of 2007. A rise in productivity is significant because it is seen as a crucial measure of an economy's strength and future GDP growth, taking in to account living standards, capital and labour resources. For too long the UK has lagged behind the other G7 countries in terms of productivity: this looks set to continue despite the good news, as gains in productivity are offset by persisting low confidence in UK manufacturing. The incoming UK minimum wage hike will also have a marked effect on productivity as labour hours will cost businesses more.
So what is the effect of macroeconomic productivity on small businesses? Productivity is a key measure that the Bank of England uses to determine interest rates, which are currently kept at record lows. There has been a huge amount of speculation as to when the interest rates will be increased and this news should support those who think a rate hike will be sooner rather than later. Small businesses looking to borrow money will be amongst those monitoring the situation, particularly those with loans with a variable rate. However, the Bank of England typically follows the lead of the US Federal Reserve when altering the interest rates, and it is hard to see any great change any time soon. In the current uncertain global financial and geopolitical climate, analysts are not predicting the first rate rise until spring next year. When that does happen, Mark Carney, the Bank of England's governor, has stated that increases will be "limited and gradual". Any changes will take time to filter through to the real economy and SMEs in particular.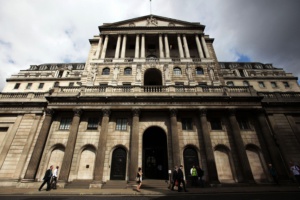 A raise in productivity is undoubtedly a good sign the UK economy is finally dragging itself out of the doldrums, yet we are still 18% worse than we would have been if the pre-crisis productivity rates had been maintained. It is not just a case of everyone working a bit harder; investment in public infrastructure and fiscal policy will be the defining factors that will hopefully see the UK catching up with everybody else. Small businesses can expect to benefit from increased productivity and subsequent better living standards for its workers, but should be carefully monitoring an imminent interest rate hike when budgeting for the next couple of years.